Marlin SAC Does Lundy
6th & 7th September 2008
It was with genuine incredulation that I took the phone call from John on Friday morning, who informed me our trip to Lundy with Clive Pearson aboard The Jessica Hettie a 27' Starfish 8 – 250hp vessel launching from Clovelly, was on. The scene outside was not conducive to diving though with a little more rain and wind we could have sailed down to Devon. This according to the Shipping Forecast was on its way, warning of Cyclonic 7 to storm force 8 in the Bristol Channel. My thoughts dwelt on the sanity of our skipper Clive.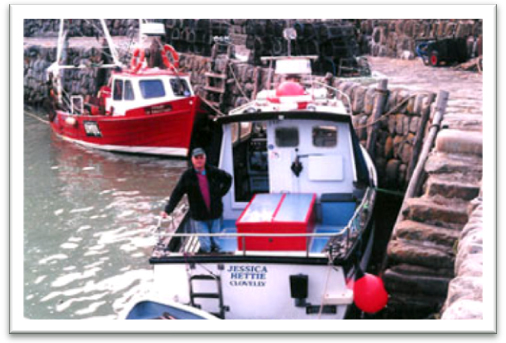 I was travelling down with Jim, intending to take off in the afternoon, camping overnight near Clovelly, but as traffic reports warned of long delays along our planned route, which were only going to worsen due to the deteriorating weather conditions, me and Jim decided to take off in the wee small hours. By 9pm I was tucked up in bed with a mug of hot chocolate, while our comrades battled to erect tents in monsoon conditions. Boy did I feel bad.
The journey down was un-eventful but the scene that greeted us on our arrival at Clovelly harbour at 8:30am was hard to take in and restored my faith in Clive, sunshine breaking through the clouds and mill pool calm seas, remarkable. I tried to push away the thought that we were in the eye of the storm.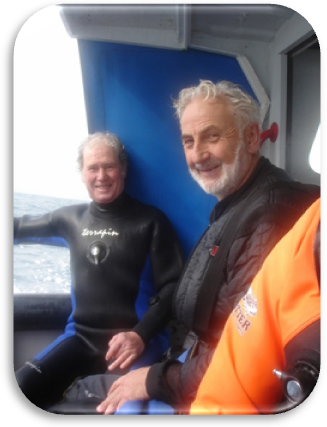 We loaded the boat and headed for the Island. On arrival we dumped our dry kit ashore and went diving but not before Clive went fishing for our Lunch a dozen or so small to medium mackerel, Liz joined in and was rewarded with her first ever catch, which as we'd already caught our quota was returned to fight another day.
Brazen Ward was to be our first drop in spot, a gentle drift northward at 15 to 20metres and although the viz was poor due to the previous days weather, Jim was heard to say it was "the most fish he'd seen on a sea dive". Just the usual suspects; Pollock, Wrasse, etc. The dive should have ended in a small bay where at about 6 meters lay the remains of the SS Salado (1897). Suffice to say we never made it that far; Liz and Eóin found it though and returned with treasure. "I found a porthole" he was heard to say, this surprised Jim a fitter with many years of experience in such matters, he would have sworn under oath the item in question was a large pipe flange. I'd like to think they were both right, which would then explain why the thing sank.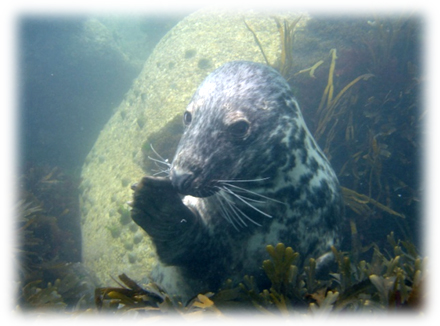 Next we headed for Gannet's Bay to see if the seals were in a playful mode. Our luck was in and lots dropped in to see what we where up to. One took a shine to the bright blue leg of Jim's suit, mouthing it gently with its teeth. A wondrous experience but after 20mins or so we were getting low on air so returned to the Jessica Hettie, where Clive had cleaned this morning's catch, rolled them in his own brew of flour, herbs and spice, before pan frying them in butter. WOW!!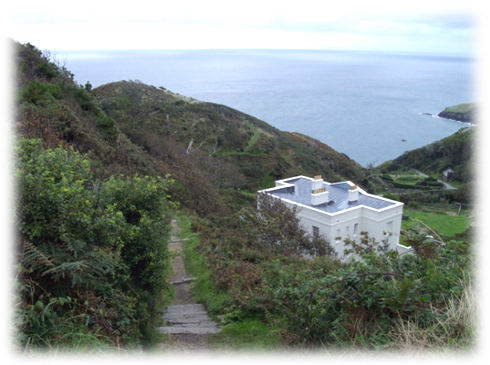 After lunch and a short rest we went to look for another dive but after rounding the headland it became apparent the eye of the storm had passed and we were about to get the tail end. We called it a day and returned to the jetty, only to find the combination of low tide and a good swell meant we couldn't dock so ended up having to kit up and swim ashore. Me and Eóin volunteered the more experienced amongst us to go first, which was a good thing as John ended up a little too far down the beach on some rocks, enabling us to move up the beach a little before jumping in. Once ashore we changed for the long march up to Lundy's summit. Why were we putting our bodies through such torture? Well that's where the pub was! The first sip of Lundy's "lighthouse" bitter proved worthy of the effort. A quick chat with mine host revealed there were six B&B places available in the old manor house, excellent! We supped up stowed the camping gear and indulged in a good hot shower with warm towels, fantastic! , before returning to the pub for some fine grub and another pint or two by way of a nightcap, just to aid our sleeping in a strange albeit very comfy bed.
While Morpheus held us in his gentle grip the storm had blown through and by the time we were indulging in a very nice Full-English and coffee the sun was brea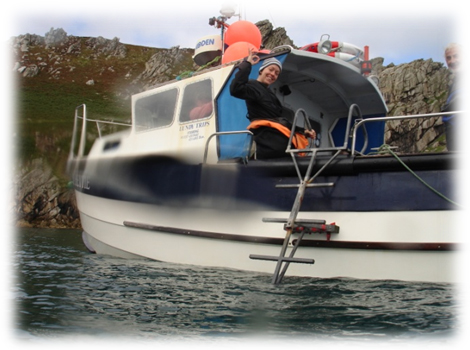 king through the clouds onto a day which was to improve by the hour. A slow stroll down to the harbour where Clive was waiting, a high tide easing the loading of the boat and we were underway to our first dive site, the MV Robert. While we made ready Clive worked his magic and hauled aboard lunch. Meanwhile the swell caused Jim to share his breakfast with the fishes but unfortunately he also ejected the very things he needed to bite down on his regs. So no more diving for Jim till he's seen his orthodontist. Now we've all lost a torch, a compass or a DSMB on our travels but beat that. Having my buddy out of action Eóin and John allowed me to tag along with them while Liz dropped in with Brian. Nice dive, with loads of fishes, anemones, some crabs, a lobster and the obligatory Conger.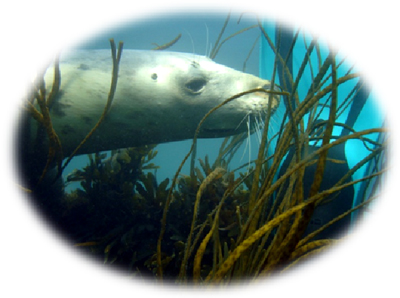 We returned to Gannet's Bay to play with the seals again while Clive prepared lunch, this time with bread and courgette, and then it was off to our last dive, on the Knoll Pins. Liz drew the short straw this time; we dropped down the east side to about 20m, and then circled the Pins anti-clockwise. The rock faces where covered in Jewel anemones, cup corals, both dead men's and red fingers, most of which seemed to be napping, pink sea fans, sponges and the like. We came across a seal resting at 20m or so, which would have been a real highlight of any dive if we'd not just spent the last hour or so with a dozen of them.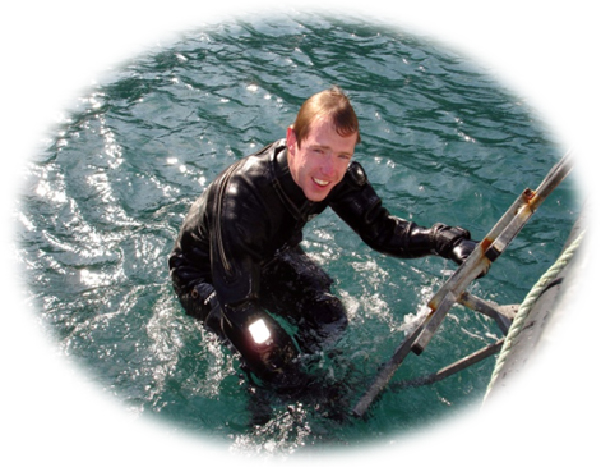 All aboard and homeward bound to Clovelly with Clive showing off his boating skills surfing the swells which helped push Jessica Hettie back home. A really cool sight or maybe I should just get out a bit more. Back at the Harbour was a bit of a pain, the tide being out meaning we had to shuttle the gear to shore, back and forth in a small Zodiac, Jessica Hettie being anchored 100m or so out. But well worth the effort, because this is the kind of experience that money alone can't buy, it takes enthusiasm and commitment.
So a big thanks especially to Chris who organised it for other to enjoy and to everyone who gave of their time to pass on the knowledge and skill which made this trip possible.