Divers   Down
(Where?)
Glorious Mediterranean weather, warm (ish) water, sightings of SHARK !!! ,  Ray and exotic fish : Where on earth could we be?
Answer :
Swanage   Dorset   27th September 2008
A very successful joint club trip was arranged to include members of Hinckley and Marlin  BSAC branches. Thanks to Dale Smith and Ann Pendlebury  for sorting out the boats, and generally being in charge. Especially Ann, we know Kev  really appreciated it J.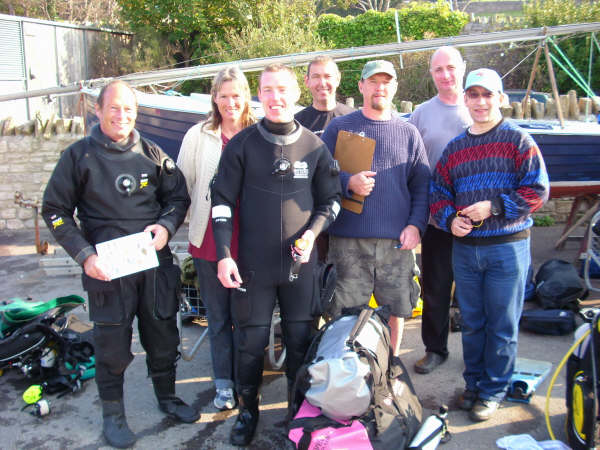 Garry       Cathy   Eóin   Steve Dale      Kev   Neil
We left the Midlands on Friday afternoon in 3 vehicles bound for Swanage. Only 166 miles and according to Tom Tom approximately 3 hours driving.  Easy Peasy.
However, as we approached Poole it became clear that Tom intended to send us across on a ferry. No one had told him that the ferry is currently in dry dock in Southampton. Kev, Eóin and Steve made it as far as the ferry car park before turning around to find an alternative route. Garry and Cathy, towing a large caravan, realizing Tom's dastardly plan quickly planned their escape before reaching the terminal. There followed a harrowing 60 minute drive through Poole town centre as Tom repeatedly tried to return them to the ferry port and proved to be of absolutely no use in a crisis.
Dale, Ann and Neil  meanwhile were doing their own random thing over on the M5 somewhere. What were they thinking?
Anyway we all made it and met up on the pier first thing on Saturday morning full of enthusiasm. Kev had had the forethought to nab his parking space on the pier at 7. 30 a.m. while the rest of us were still in the land of nod. Cheers  mate.
First dive of the day, a sedate gentle drift. Steve, Kev and Eóin buddied up. Dale stayed ashore with Cathy and Garry enjoying the sunshine. Don't want to over do it do we? Ann took Neil in for his first ever sea dive. Never to be forgotten ay Neil? He started the trip anticipating the size of crab he wanted to bring back for our supper. (Seen waving green arms below)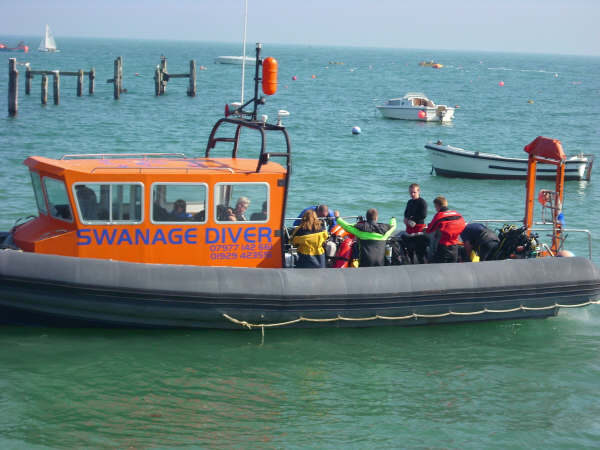 Unfortunately he ended the dive by feeding the fishes himself. Ann was thrilled. Apparently the pair were left in the water for 15 minutes, with the boat just a dot on the horizon and the swell proved too much for several of the hardy souls including our poor Neil. However he was not down hearted and  on Sunday he enjoyed an hour long dive with Dale under the pier. All's well that ends well.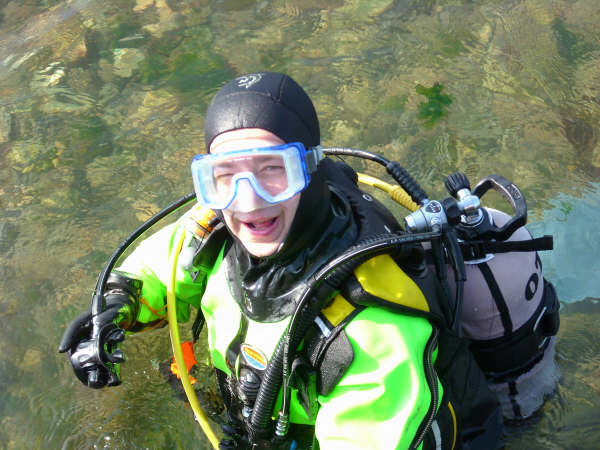 Saturday afternoon, our boys were off to dive the Betsy Anne, an 880 tonne steel Dutch steamer, built on the banks of the River Tyne in 1892. She struck Prawle Point in Devon in 1926, but was refloated and taken under tow towards Cowes on the Isle of Wight for major repairs. Unfortunately she never made it. She sank in her present position as she was rounding Portland Bill.
Kev, diving with Dale, thought he'd won the lottery when Dale spotted something blue with the letters 'BEAVER' on the side. Tantalisingly just out of reach inside the hull they tried unsuccessfully for several minutes with snorkels and arms extended to reach the treasure. Finally Dale managed to squeeze far enough into the hole and the nearly new Plasma LED torch was retrieved. Garry and Steve made sure they had their full hour under water and on their return to the boat Steve was heard to ask Garry "What did you lose, your torch?"  Kev asked "Was it a blue one?" hoping for a negative response but come on Kev, what are the chances? A reward of a pint is still owed. For Garry no dive trip is complete unless some item of kit is lost. We get plenty of search and rescue practice.
Sunday morning, Kev was up bright and brearly to get his parking space. Unknown to us the first dive of the day was 6.30a.m. so all but one space had gone. We had the end one, farthest from the water and right by the toilets. Better than being up the hill in the car park though so mustn't complain.
Kev had his first dive as a bona fide qualified Sports Diver, buddying Garry on the wreck HMS Carantan, a French submarine chaser which sank on 21 December 1943. Three of the crew swam clear and were rescued by the Rorqual. Another three climbed onto the upturned hull and were rescued by the Swanage lifeboat. The rest of the crew went down with the ship, so visiting divers need to treat the wreck with the respect due a war grave.
Steve and Eóin were paired off. Steve in full SCUBA gear, we were not sure what Eóin thought they were going to do but he was happy so that's all that mattered.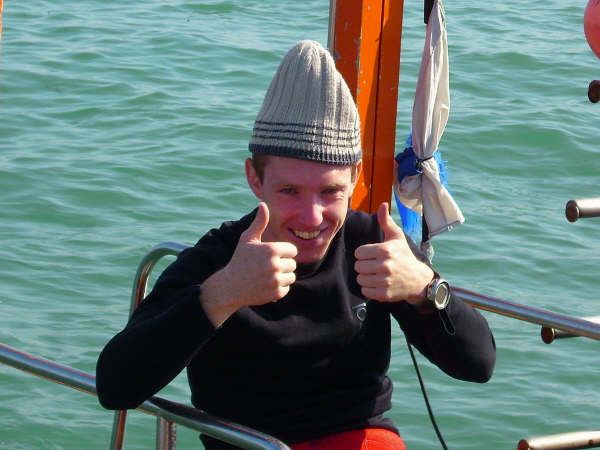 Cathy and Ann went for a pootle under the pier. It was like being in a fish nursery so many little baby fishes, Sweet. They saw 3 John Dory, hundreds of Tompot Blennies in various states of maturity, prawns, a crab (but it was dead does that count?) and a few fish they couldn't identify. Big ones, little ones, a fish is a fish is a fish. Maximum depth 4.2 metres. Water temperature 16 degrees. Cathy got tired of breathing. Neil, with his medical expertise,  suggested that might be a problem in or out of the water. Reg  probably needs checking.
Sunday afternoon, the final dive of the weekend was another drift by 'Old Harry'. This time from the dive boat Mary Jo.  SHARK!!! Dogfish and Ray spotted.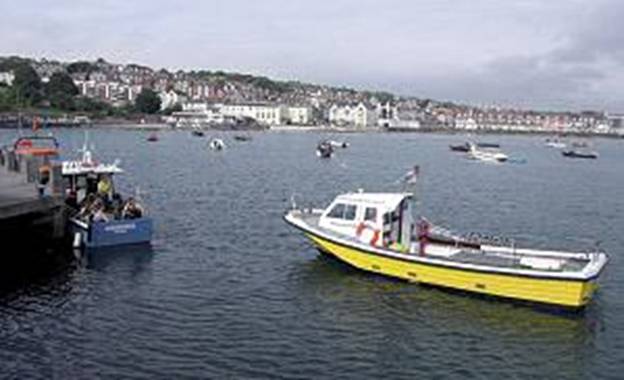 Only 3 of our party still had the stamina for a 'proper' dive. Ann and Cathy waved off Garry, Kev (no Kev you are not an airplane) and Eóin  …..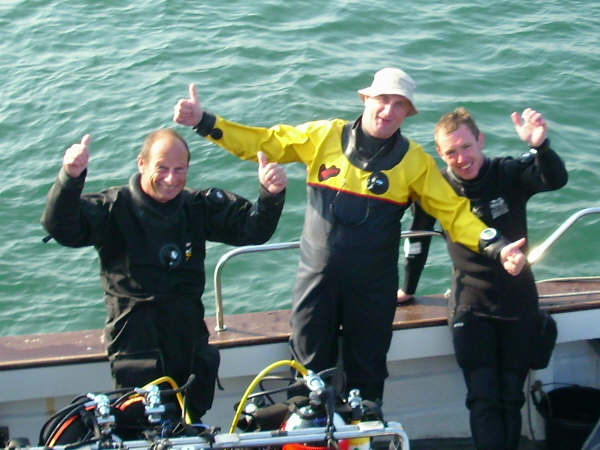 ….. as Steve emerged from under the pier.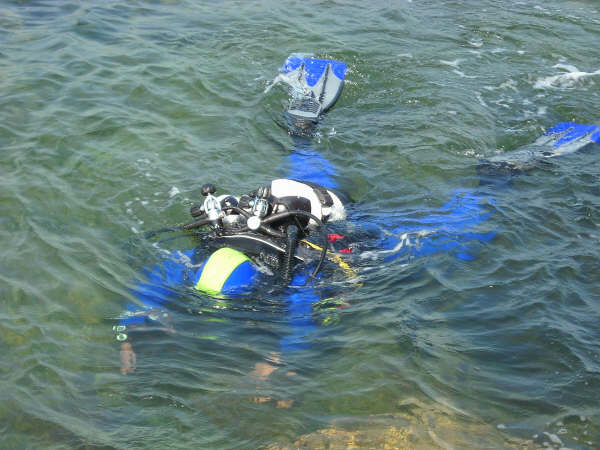 Dale and Neil  surfaced a few minutes later.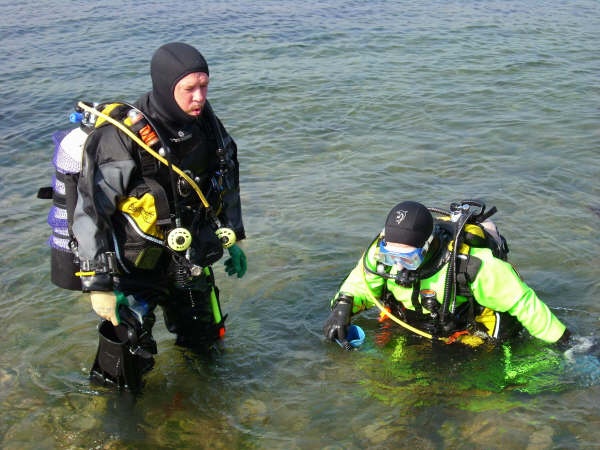 Kev did a sterling job holding the SMB for the whole of their 50 minute drift. For some reason he had expected to share this  task with his buddies but they could see that the inflatable was a great source of comfort to him. Cool shades Kev.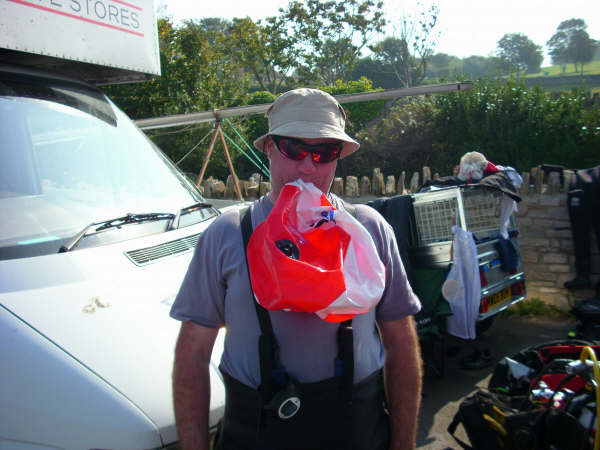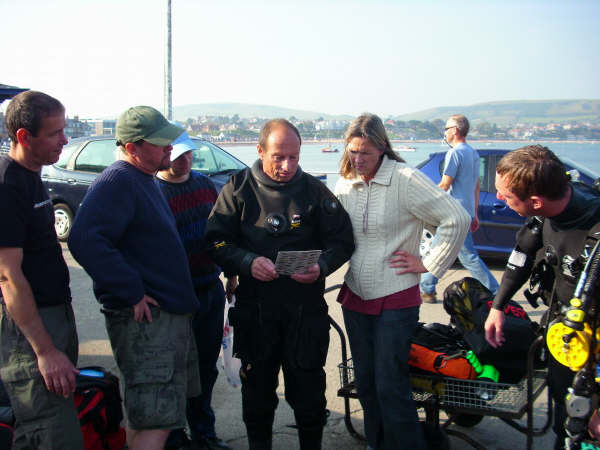 Identifying the SHARK !!! on Dale's fish chart.
Eóin proved to be a bit of a one for the ladies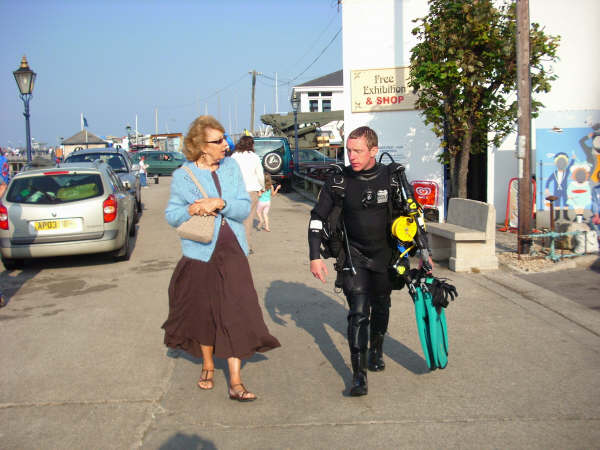 So we kept him behind bars, naughty boy.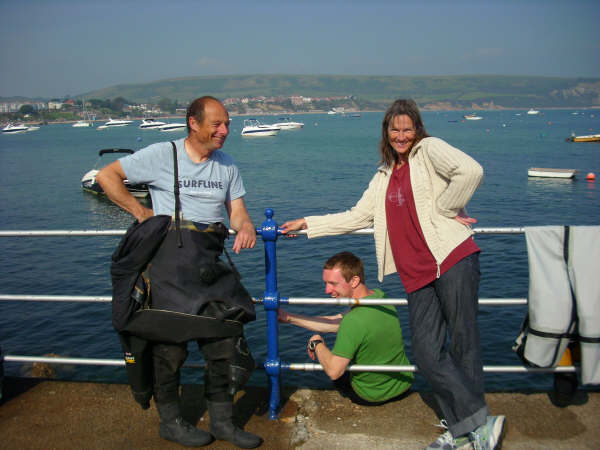 Take a cold shower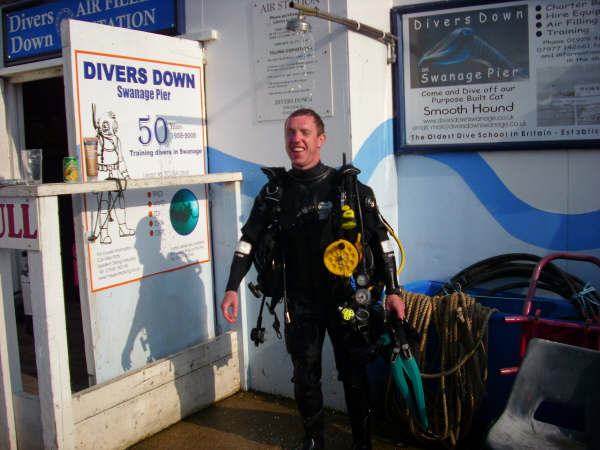 We had such a good weekend. Beautiful weather, good diving and excellent company. Let's do it again soon.