We did It Capern Wray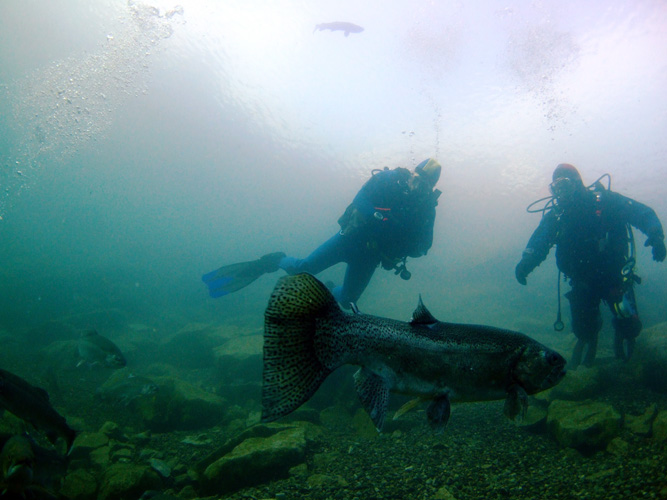 I was a bit special. Was the opinion of those closest to me when I told them I intended dragging myself from my pit at 5am for a 3 hour journey north up the M6. All to dive a quarry whose website was quoting a water temperature of 7.5° C. (This turned out to be an average temperature for December, being changed monthly not daily, it was in fact 9-10 ° C) especially as there was a similar and perfectly adequate venue within a twenty minute drives of home. The drive up was uneventful but the banter increased as we made ready; Kevin offering to supply me with a list of reasons he enjoyed my company on these dive trips. That is if he can ever think of any. Richard's story of a five legged dog was trumped by Garry, who claimed to have seen a seven legged version.
Soon we were ready to see if the viz was as good as it appeared on Joe's dive site brief…    … it was with the ripples on the surface, picked out by the sun's rays, clearly visible from 17 meters. It felt almost Mediterranean, but the 9° C pulled me back to reality. At 5 meters Steve gave me that look that said "what's the dive plan then". I threw back the "I thought you had the plan" look. He then pointed to a brass plaque a few meters below. This had one of those; you are here maps engraved upon it which indicated that taking a bearing of 130° would reveal the wreck of the PodSnap. We adopted this as our dive plan, for all of 20 seconds, as we turned the shadow cast by the wreck of The Gypsy Moth some 20m away came into view. So the plan changed and after exploring the Gypsy Moth we set sail for a swim through The Cave adorned by a Wessex helicopter. Leaving this we were met by a cliff face which would have taken us to 10m, so we headed south along the bottom to discover several up-right and over turned vehicles until after 15 minutes or so we were back at the Gypsy Moth. So what was in the middle of this hole then? We zig zagged back and forth only to return again to the Gypsy Moth. Recollections of Eccleston delph bubbled up. (Another tall tale of misadventure from the Mick and Steve dive logs).
We spent the last 10 minutes exploring the North West cliff before ascending to feed the fishes. I ripped the corner of the bag, letting the pellets slowly ascend, bringing fish in form every direction and ensuring no pellets made the surface. Before the bag was half empty the trout began ripping it from my hands, so I ripped it open scattering the food and causing mayhem as each fish fought for its share of the plunder. We were followed up the slope by Garry and Kevin and sat watching as they took their turn at feeding. As the shoal had already gathered and tasted the spoils on offer, Kevin was denied the pleasure of slowly releasing the food as the fish tried to rip the barely open bag form his mitts. Awesome sight!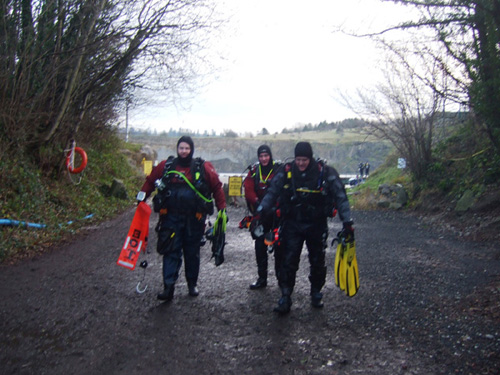 While Richard and Garry guarded our kit we sloped off for a nice mug of coffee, (sorry about that chaps) and studying the map of Capern Wray's under water topography, we tried to formulate a dive plan; Jump in, go down, turn left. Now time to test it out. Yep it seemed to work really well and we managed to bump into all the stuff we'd missed on the first dive; The African Queen, airplane, the 21m sump, we also followed the Sturgeon for a few minutes, before climbing to 10m where we were met by a large shoal of Roach which danced to and fro as we swam amongst them. Our next treat was to stumble across Shergar which Steve mounted, with not so much as an offer of a sugar lump, to pose for what would have been a great photo op had we a camera with us. Then it was through the training area to exit at the slip.
Two good dives with great viz in a decent Quarry. Was it worth the inconvenience of the 5am start?
Oh yes!
I'll look forward to doing this one again.