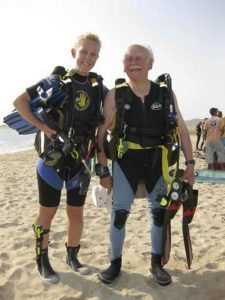 Marlin SAC have received the sad news that Brian Thake, one of our founder members passed away on April 7th 2018 just a few days short of his 87th birthday. Brian was a keen sailor all of his life and learned to dive at Hinckley sub aqua club after his retirement .
In 1997 Brian and a few of his friends decided to set up their own BSAC branch based at the old Pingles Swimming pool in Nuneaton, Brian was the inspiration behind the name 'Marlin' and the club logo. Brian donated the funds to buy the first 10 new sets of kit for learner divers, some of which is still being used by new members today. When the club suffered a break in and had kit stolen a few years later Brian offered straight away to fund replacements.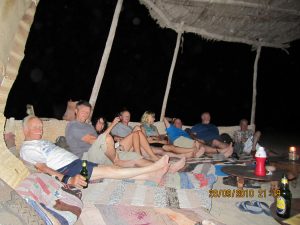 Brian enjoyed his diving and the club trips. His last dive was on a club trip to Marsa Shagra in Egypt in 2010, he was 80 years old. He was accompanied on that trip by his grand daughter Anna who was just starting to learn to dive and at the end of the holiday he passed some of his kit on to her. As was noted at the time, one generation hangs up his long johns as another begins her underwater adventures. Brian lived a full active life and will be very fondly remembered by everyone who knew him.